By selecting an SMTP account in the Navigation Pane you open the SMTP form.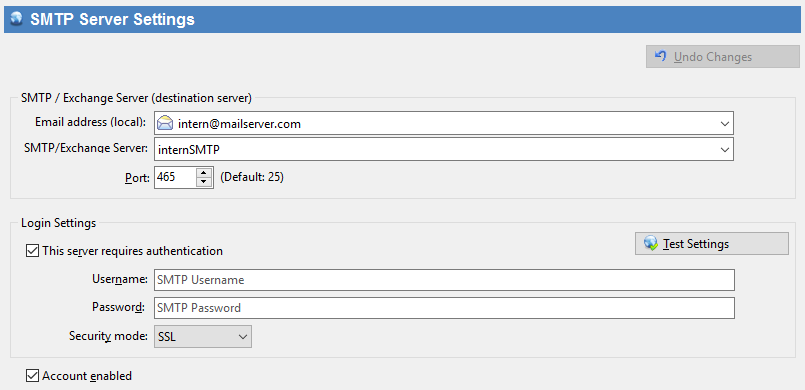 SMTP/Exchange Server (Receiving Server)
| | |
| --- | --- |
| Email address | Select or enter your destination email address here. (SmartPOP2Exchange will deliver messages to this address.) If a POP3/IMAP account belonging to this SMTP account is a catch-all account, this mail address will be used as fallback address in case SmartPOP2Exchange can't find any recipient in the message or the SMTP server does not accept it. |
| Server (SMTP) | This field retains the name of the SMTP server the messages will be delivered to. This is usually your internal server. Select or enter the name or IP of your internal SMTP/Exchange Server. |
| Port | Sets the port of the SMTP server. |
Authentication
| | |
| --- | --- |
| Username | Your username for the SMTP server. (You must check Server requires authentication to edit this field) |
| Password | Here you can change your password. (You must check Server requires authentication to edit this field) |
| Security Mode | Choose the security mode (SSL or TLS) used for the connection to download mail. SSL / TLS support depends on your SMTP server settings. |
Miscellaneous
| | |
| --- | --- |
| Test connection | Press this button to test if SmartPOP2Exchange can establish a connection to your SMTP account. |
| Account enabled | Enables or disables your SMTP account. |
If you want to reset the account form press the Undo button.

Please note that any changes you made will be applied only after pressing the 'Save settings' button.

SmartPOP2Exchange supports login authentication only.