Is the use of UltraSearch new to you, do you have problems formulating your search or can you not find the desired results? The Query Composer helps you to formulate your search query and brings you closer to the possibilities of the search. Each input field is equipped with a separate '?' button, which gives you more detailed information about the respective field.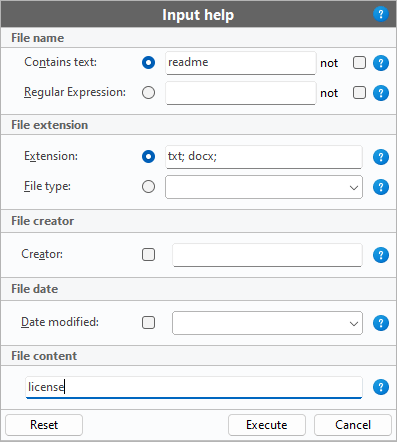 The Query Composer is divided into four areas: File name, File extension, File content and Conjunction. All fields are optional, so that only the required fields need to be filled in to start a search.
File name: If you are looking for files with a specific file name, simply enter it in the fields provided. You can distinguish whether the file starts or ends with the specified name or whether the specified word should be present at any position in the file name. By checking the "Not" check box, the entered file name is excluded from the search and only those files are displayed in which the specified name does not occur.
File extension: If you would like to search for files with a specific file extension (txt, docx, pdf, ...) or a specific file group (video files, audio files, ...), you can define the exact criteria in this area by either typing the desired file extension into the corresponding input field or selecting the desired file group from the drop-down field.
File content: For a full text search you can enter the desired text here. All files are then searched for the content entered here. Since reading out file contents can take a long time, additional search criteria such as file name or file extension should be used.
Conjunction: The 'Conjunction' determines whether all specified search criteria (file name, file extension, file contents) must be fulfilled (AND) or at least one of these criteria (OR).
Finish your user input by clicking the 'Ok' button. The Query Composer closes and inserts your search query into the search field. A search is then automatically started and the results are displayed in the result list. Of course, you can manually adjust, extend or delete the search query in the search field at any time.