By selecting email Backup in the Navigation Pane
you open the email Backup configuration form. The following settings may be applied: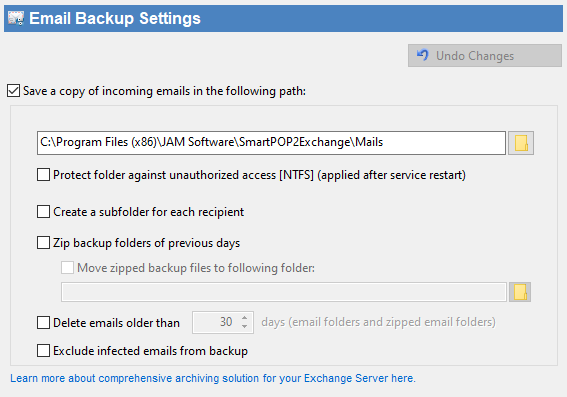 Save a copy of an incoming email to the following location:

By selecting this option, SmartPOP2Exchange will save a copy of every incoming email to your hard drive.
Determine where the backup copy of messages is to be saved.

Create a sub folder for every recipient

This option allows SmartPOP2Exchange to save an email in a sub folder with the recipient's email address.

Delete old Backup emails

Choose this option to automatically delete emails from your backup after X days.

Zip email Backup Folder

Choose this option to automatically compress the backup folder to a zip format.

Exclude virus infected messages from backup

If this option is checked SmartPOP2Exchange will remove message files from the backup if an anti virus rule detected them as malicious messages.

This option can also be found on the Anti-virus settings page.